Welcome to MyVantage!
MyVantage is the easy, affordable and secure way to provide superior customer service and sell a broad range of products -- online, by phone or in person. More than just a "shopping cart", MyVantage provides online payment processing, customer relationship management (CRM), precision marketing, inventory management, purchasing, order fulfillment and accounting, all in one integrated package. And with MyVantage, you do not have to worry about backing up and securing your business data - we do it for you.
Large companies have spent millions of dollars to integrate their online and offline business operations. MyVantage does this at a fraction of the cost and provides plenty of room for future growth. If your business conducts events, sells renewable subscriptions, or needs point of sale (POS) capability, MyVantage add on modules make it easy.
MyVantage. Simple. Powerful. Integrated. The Euclid Solution.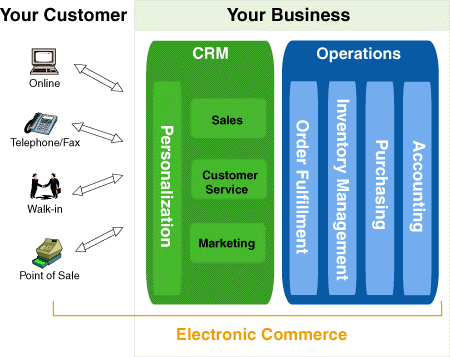 Your Customers: Today's customer demands instant access to your products and services. MyVantage lets your customers communicate with you when and how they want to. In turn you can communicate with your customers in more effective ways. MyVantage allows for a variety of communications channels:
Online: Your customers can communicate with you over the web while you leverage e-mail and web customization to target new and old customers.
Telephone/Fax: MyVantage's easy to use interface allows your staff to quickly enter all phone or fax orders. Also use MyVantage to organize phone and fax marketing.
Walk-In: MyVantage's easily accessible information means you can quickly serve all walk in customers.
Point of Sales: MyVantage's powerful point of sales technology allows information from individual stores to be integrated with data collected on the web, phone, fax, and any other means.
Customer Relationship Management (CRM): Respond easily to the needs of your customers as you track all interactions you have with them, whether online, by phone or by mail. Target your marketing efforts to customers with specific interests and purchasing behavior.
Personalization: personalize all of your communication with customers and make your customer feel like they are more important than a generic e-mail or letter.
Customer Service: Allow your customers to easily asks questions and get answers on the web. With MyVantage your staff can easily and quickly access information on a customer's filewhen speaking with a customer.
Marketing: Use MyVantage to coordinate and track marketing efforts across new and powerful medium. Also analyze the effectiveness of each marketing effort.
Operations: Use MyVantage for key business operations including:
Order Fulfillment/Sales: MyVantage's web integration eliminates double entry for both your staff and your customers. MyVantage allows your customers to buy products, check order status, register for events, buy subscriptions, pay bills and update their own contact information all online. MyVantage also supports all other sales channels, such as walk in sales, phone and mail orders.
Inventory Management and Purchasing: Manage all your inventory and re-order when inventory is running low.
Payroll and Time Keeping: MyVantage lets you manage all payroll and time keeping functionality. Not only can you track time but also analyze how time is being spent and which customers are requiring more time.
Accounting: All online and offline sales activity integrates with MyVantage's comprehensive accounting system that allows you to mange accounts receivable, accounts payable, and general ledger accounts. MyVantage also includes a full set of detailed accounting reports for use in maintaining your books.